Exploring Little Italy, San Diego: 5 Reasons Why It's a Great Place to Live
Posted by Alli Urguby on Tuesday, May 2, 2023 at 1:54:51 PM
By Alli Urguby / May 2, 2023
Comment
If you are looking for a vibrant and exciting neighborhood to call home in San Diego, then Little Italy is definitely worth considering. This beautiful and dynamic neighborhood is situated in the heart of the city and offers a unique blend of Italian culture, delicious cuisine, stunning waterfront views, and a strong sense of community.
In this post, we will explore some of the many reasons why Little Italy is a great place to live, from the lively food scene to the beautiful art galleries and museums. So, let's dive in and discover what makes this neighborhood so special.
Walking through the Neighborhood
Picture yourself strolling down the charming streets of Little Italy, San Diego's beloved neighborhood. With its pedestrian-friendly layout, this neighborhood is the perfect place for those who enjoy a car-free lifestyle.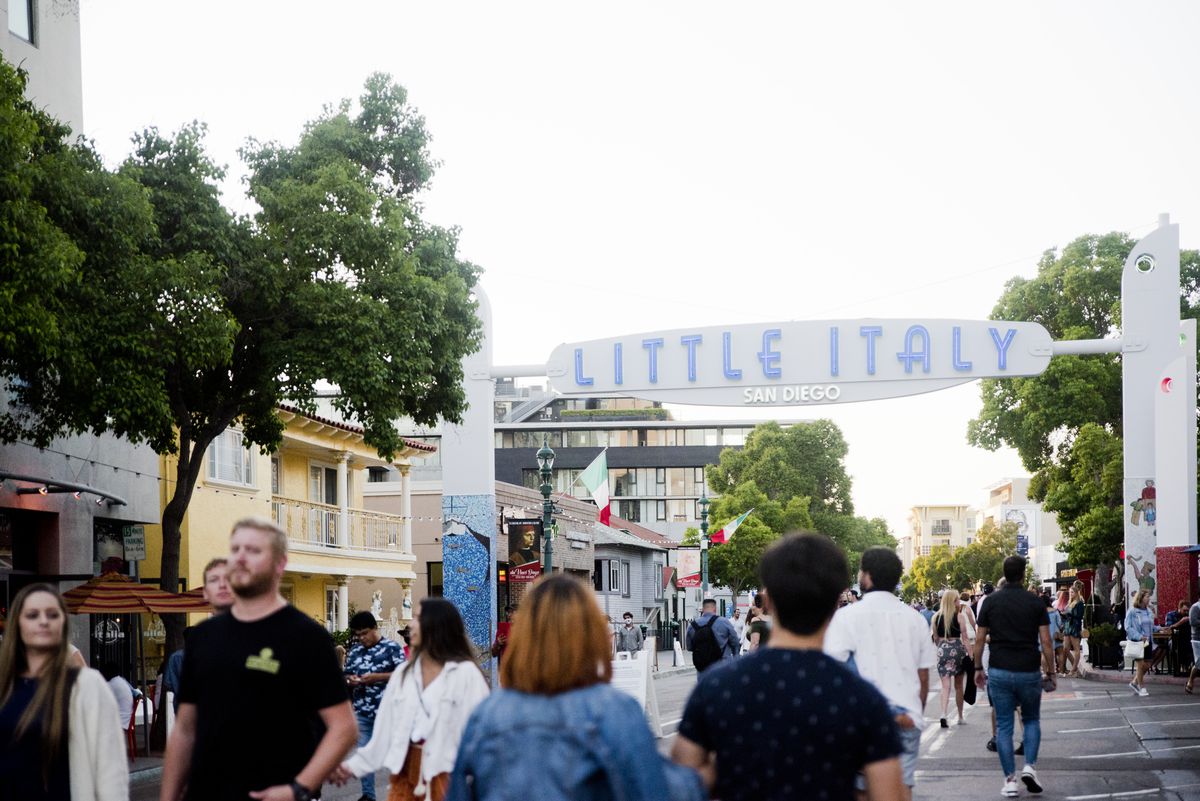 Living in Little Italy means you can easily walk to everything you need, from top-rated restaurants and cafes to local shops and parks. Imagine running errands or meeting friends for dinner without having to worry about parking or traffic. Instead, you can immerse yourself in the vibrant energy of the community and explore all that Little Italy has to offer.
One of the best things about living in a walkable neighborhood like Little Italy is the sense of community it fosters. You'll often bump into your neighbors out and about, creating a feeling of belonging and connectedness that is hard to replicate elsewhere. Whether you're chatting with a friendly shopkeeper or attending one of the many community events, you'll quickly feel like you're part of the family.
Little Italy's walkability also has environmental benefits, with fewer cars on the road resulting in cleaner air and a greener environment. And when you need a break from the hustle and bustle of city life, Little Italy's many green spaces provide a peaceful respite.
Exploring Little Italy's Local Food Scene
If you're a foodie, Little Italy is the perfect neighborhood for you. From fine dining to casual eateries, Little Italy is a culinary paradise with a wide range of options to suit all tastes and budgets.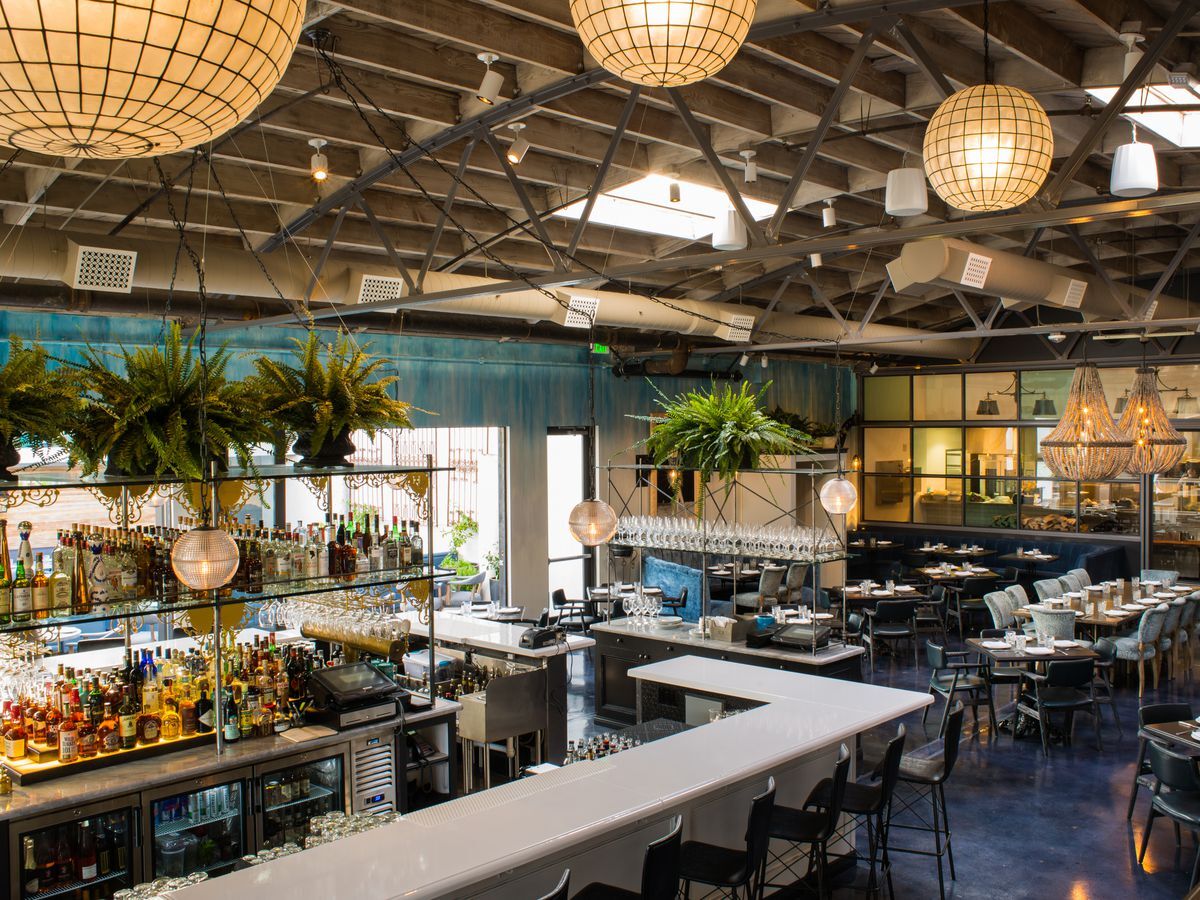 Whether you're in the mood for fresh seafood, authentic Italian cuisine, or a gourmet burger, you'll find it all in Little Italy. With so many options to choose from, you could dine out every night of the week and still not try them all.
Some of the most popular restaurants in Little Italy include the award-winning Juniper & Ivy, the chic Herb & Wood, and the beloved Italian eatery, Civico 1845. But it's not just the high-end restaurants that draw in the crowds. You'll also find casual spots like Ironside Fish & Oyster, Crack Shack, and the colorful, Insta-worthy pop-up, Ambrogio15.
In addition to its fantastic food scene, Little Italy is also home to some of the best bars and nightlife spots in San Diego. Whether you're looking for a quiet, cozy spot to enjoy a glass of wine or a lively bar with a bustling atmosphere, you'll find it all in Little Italy.
Some of the most popular bars in Little Italy include Kettner Exchange, a rooftop bar with stunning views of the city, and False Idol, a tiki bar that transports you to a tropical paradise. If you're looking for a Tulum-inspired experience, head to the Camino Riviera or the stylish, Japanese-inspired Polite Cloak & Petal.
Living in Little Italy means having access to some of the best food, drinks, and nightlife in San Diego. Whether you're a foodie or a cocktail connoisseur, this neighborhood has everything you need to satisfy your cravings and enjoy the city's vibrant scene.
Little Italy Farmers' Market Has Something for Everyone
If you're someone who cares about eating fresh, healthy, and sustainably sourced food, then the Little Italy Farmers' Market is the perfect place for you. Every Saturday morning, this bustling market brings together local farmers, food artisans, and vendors from across San Diego, offering a wide selection of seasonal produce, artisanal foods, and handmade goods.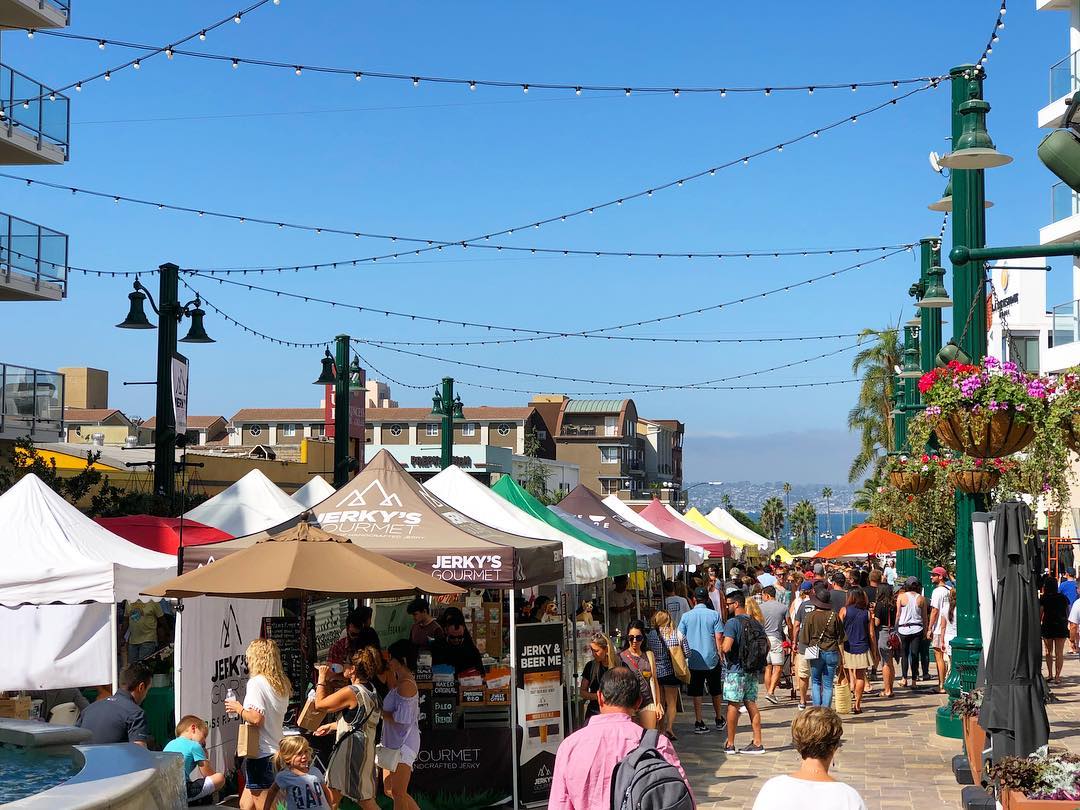 At the Little Italy Farmers' Market, you can find everything from crisp, organic vegetables to fragrant, locally roasted coffee. The market boasts a diverse selection of vendors, including small family farms, specialty food producers, and talented artisans. Many of the vendors pride themselves on using sustainable and eco-friendly farming practices, making the market a great place to support local businesses that care about the environment.
One of the best things about the Little Italy Farmers' Market is the lively atmosphere. The market is a hub of activity, with live music, cooking demonstrations, and other special events happening throughout the day. The vibrant energy and friendly community vibe make it the perfect place to start your weekend, catch up with friends, or simply enjoy a leisurely morning stroll.
But the Little Italy Farmers' Market is more than just a place to buy fresh produce. It's also a cultural experience that celebrates the neighborhood's rich history and diverse heritage. The market is located in the heart of Little Italy, a historic neighborhood that was once home to San Diego's Italian immigrant community. Today, the neighborhood is a melting pot of cultures, and the market reflects this diversity, with vendors selling everything from traditional Italian pastries to Mexican street food.
If you're looking to expand your culinary horizons, the Little Italy Farmers' Market is a great place to start. You can try new foods, learn about different cuisines, and even pick up some cooking tips from local chefs and food experts. And with so many different vendors to choose from, there's always something new and exciting to discover.
Little Italy's Convenient Location
Imagine living in a neighborhood where everything you need is just a stone's throw away. That's the beauty of Little Italy - a vibrant and dynamic community located in the heart of downtown San Diego. Its convenient location makes it an ideal place to live for anyone who wants to enjoy the best of city living.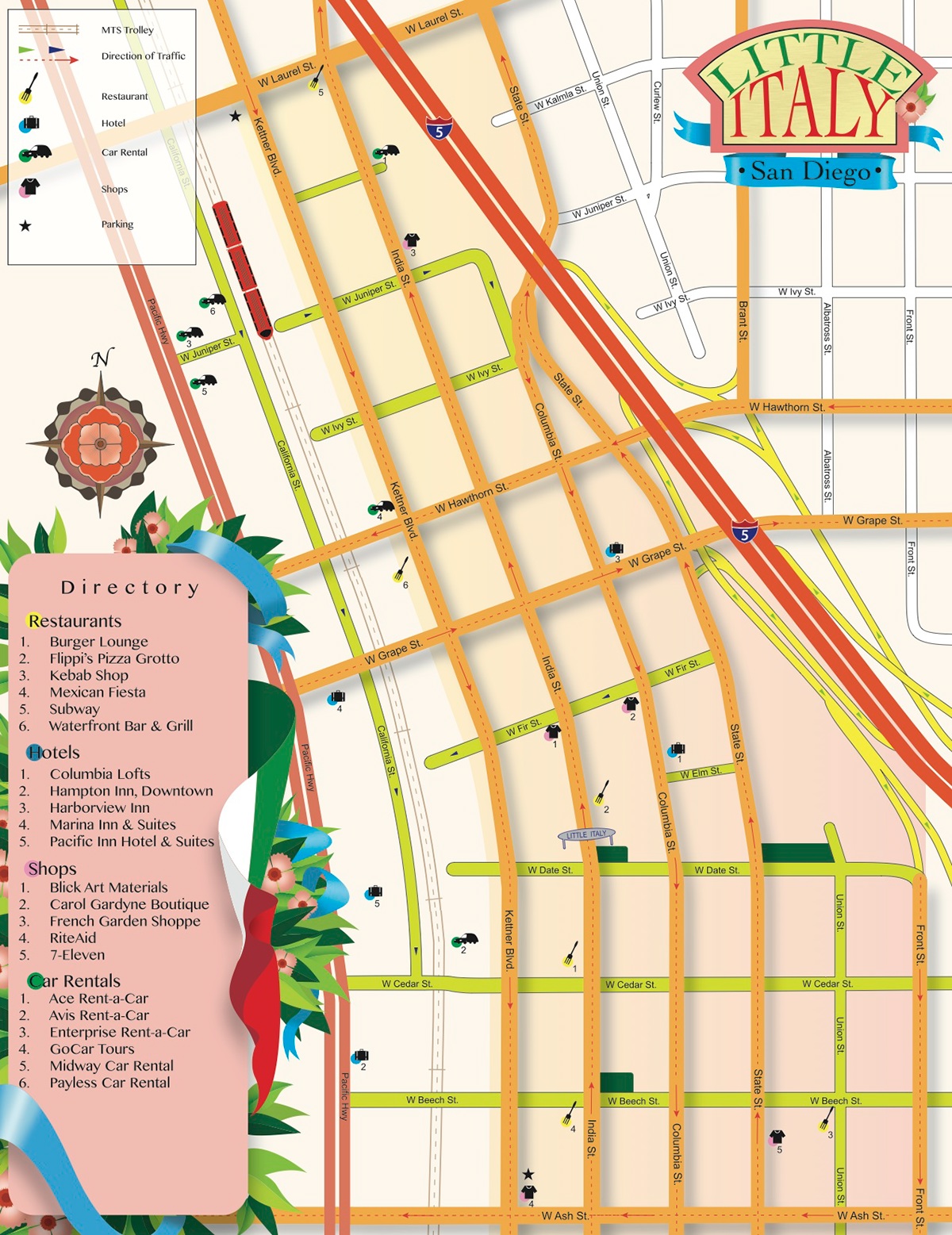 Little Italy's convenient location also means that you're just a few minutes away from some of San Diego's most popular attractions. Balboa Park, home to the San Diego Zoo, is just a short drive or bike ride away. The Gaslamp Quarter, with its lively nightlife and entertainment scene, is also nearby. And if you're a beach lover, you'll be happy to know that Little Italy is just a short drive from some of the city's most beautiful beaches.
Little Italy is also located near major transportation hubs, including the San Diego International Airport and the Santa Fe Depot train station. This makes it easy to travel to other parts of the city or even beyond.
Another great thing about Little Italy's location is its proximity to San Diego Bay. The neighborhood is located just a few blocks away from the waterfront, where you can enjoy scenic views of the bay and watch the boats go by. The bay is also home to many popular attractions, including the USS Midway Museum and the Maritime Museum of San Diego.
Experience the luxurious lifestyle in Little Italy's high-end condos
Picture this: you wake up in the morning, draw back the curtains, and are greeted by a stunning view of the ocean. That's the reality of living in Little Italy's luxury condos. Not only does this neighborhood offer walkability, a vibrant food scene, and a convenient location, but it also provides an exceptional luxury lifestyle.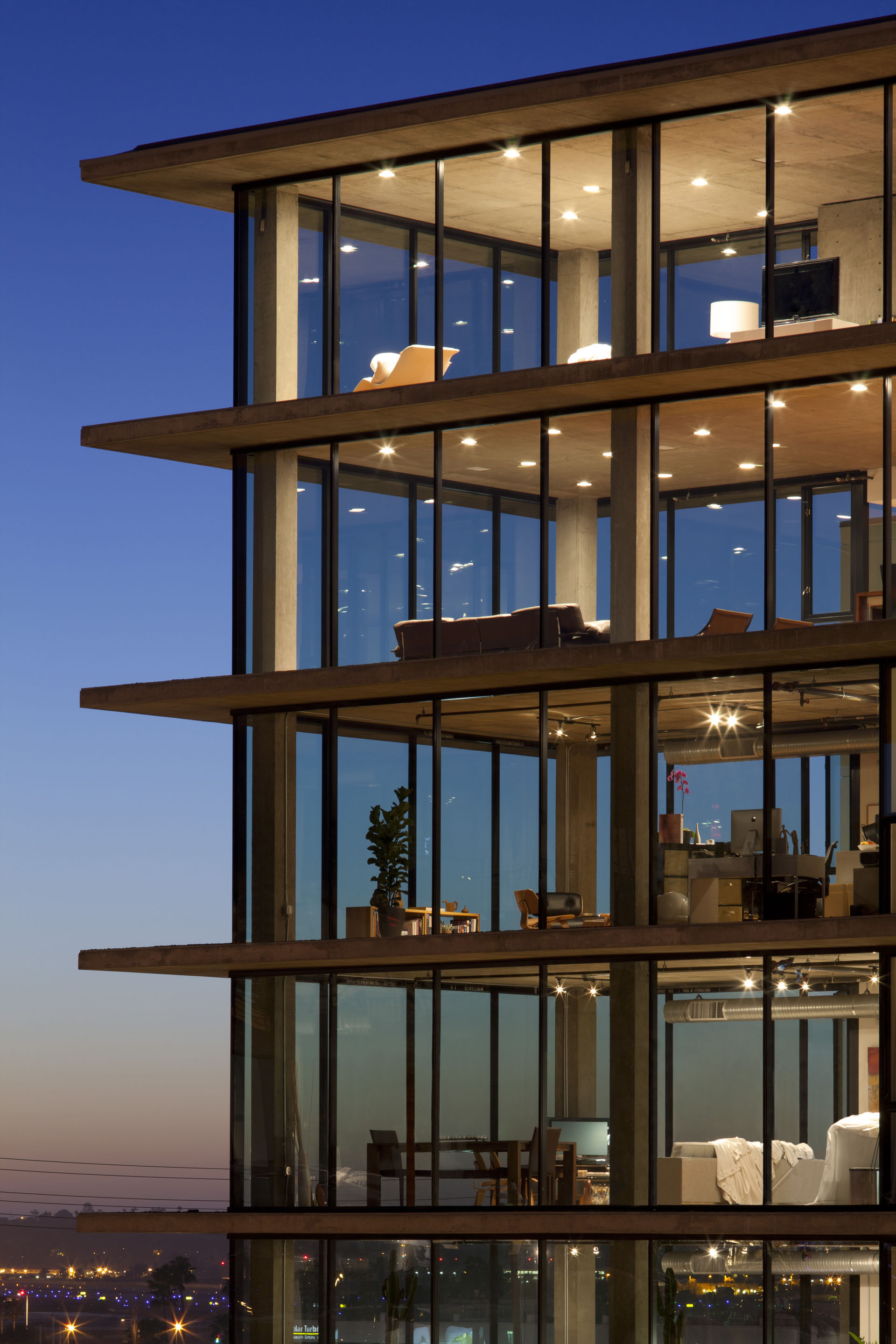 The luxury condos in Little Italy are known for their breathtaking ocean views. Imagine waking up to the sight of the sun rising over the Pacific Ocean, or watching the sunset from your balcony as you relax with a glass of wine. These views are truly one-of-a-kind and can make everyday life feel like a vacation.
But the luxury condos in Little Italy offer more than just amazing views. These buildings are also equipped with a range of amenities that make life comfortable and convenient. Imagine stepping into a lobby with soaring ceilings and sleek, modern decor, or working out in a state-of-the-art fitness center with views of the city skyline.
In addition to these amenities, Little Italy's luxury condos also offer a sense of community. With shared spaces like rooftop decks, residents have the opportunity to socialize and meet their neighbors. This creates a warm and welcoming atmosphere that truly feels like home.
Final Thoughts
In conclusion, Little Italy is a vibrant and charming neighborhood that offers a unique experience to its residents. From the plethora of delicious Italian restaurants to the trendy art galleries and boutiques, there is always something to explore and enjoy in this part of San Diego. Moreover, the neighborhood's central location makes it an ideal spot for those who enjoy being in the heart of the city, with easy access to all that San Diego has to offer.
If you are considering making Little Italy your new home, I would be thrilled to assist you in finding the perfect property to suit your needs. As a local real estate expert, I have an in-depth knowledge of the area and its real estate market. I can provide you with valuable insights and guidance throughout the home buying or renting process. Please don't hesitate to schedule a call with me to discuss your options and take the first step towards making your dream of living in Little Italy a reality!